Read the preprint here on ResearchGate.
The Problem
Public trust in the legitimacy of law enforcement in the US is at a record low. Decades of aggressive policing tactics in the US, such as "stop and frisk," have eroded trust and added enormous tension to the relationship between police and community members, especially in low-income neighborhoods of color in America's cities. The effects of this are bad for everyone: police are unable to protect communities effectively because the community doesn't trust them while community members see police as a threat to their safety.
The U.S. Federal government has tried to address this problem by investing more than $14 billion in grants to more than 90% of the law enforcement agencies in the country to support community policing efforts. Community policing is supposedly more humane, because officers talk with community members without investigating them for a crime. So far, however, meta-analyses show that community policing has no benefits on average. Unless community policing can be fixed, departments are likely to continue relying on aggressive policing, which too often results in unnecessary death and harm for people of color and poor people, and erodes trust.
What's Standing In The Way?
It is widely assumed that officers using community policing have the kinds of respectful conversations with community members that do not make people feel accused of crimes or at risk of bodily harm. But qualitative observations show that this is wrong. People feel threatened when they are stopped and questioned by the police, even when officers have good intentions. When people feel threatened, then they become defensive and evasive, which leads officers to escalate their aggressive methods—even when officers started the interactions positively.
Our Insight
TxBSPI researcher Kyle Dobson noted that a key target for intervention is the very start of an interaction between a police officer and a civilian, because the first words spoken set the stage for what happens next. Dr. Dobson's research shows that simply adding a 10-word transparency statement, in which officers explain that they are "trying to get to know the community," can transform an interaction. The reason why is that people normally wonder why the officer is talking to them—e.g. is this because I'm being investigated for a crime?—but a transparency statement dismisses this possibility. With a transparency statement, people are open to a back-and-forth conversation that builds trust.
The Evidence
TxBSPI scholars conducted a randomized, controlled field experiment that examined the impact of a 10-word transparency statement. In a study with N = 238 members of the community were approached by a uniformed and armed police officer while sitting outside. Half of the officers used a transparency statement, and half didn't. The transparency statement:
Reduced threat by 30% (from 55% to 37%)
Increased trust in the officer's intentions by 74% (from 19% to 33%)
Changed physiological stress detected through wearable electrodermal activity sensors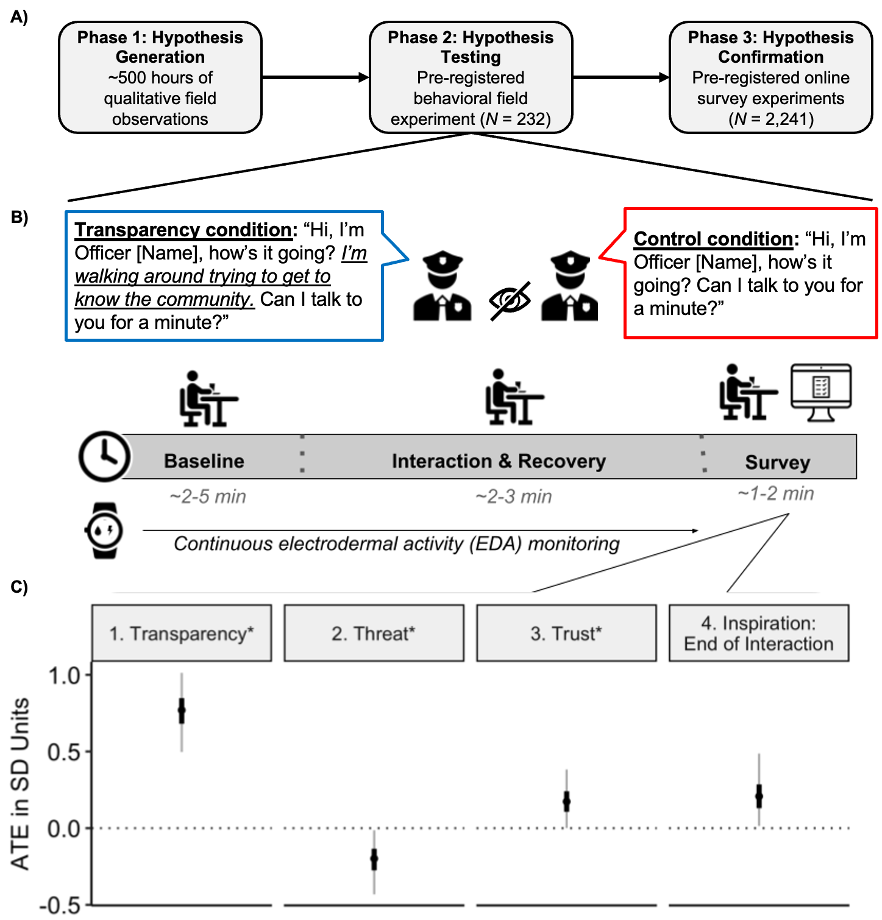 What's Next?
The next step is to build on this basic scientific discovery and develop and evaluate training programs for officers to use transparency statements in their community interactions. We aim to recruit a large team of collaborating researchers to design and launch a best-in-class, gold-standard randomized trial in partnership with multiple police departments. Once that is completed, we will scale the program to larger evaluations, and disseminate it.
Expected Outcomes
Reducing unnecessary arrests in over-policed communities of color or poor communities
Restoring trust and respectful relationships between communities and law enforcement
A new, national conversation about a more human-centered police reform agenda