This is part of a series called, Ask a Psychologist at Education Week
July 15, 2020 – Jamie Carroll and David Yeager
Question: Should I make my class less challenging when my students are stressed and anxious?
Students will face many difficulties in the coming year. They will need to catch up on last year's content and learn this year's—all while possibly confronting such issues as social isolation, difficulty with internet or computer access, food insecurity, family responsibilities, and more.
For many students, the demands of the schoolwork will exceed the support they have available. Psychophysiologists, who study the connection between the mind and the body's stress system, call this "threat" stress (see the left side of the figure below).
Scientists like Jeremy Jamieson have shown that students feel "threat" when they're being asked to do more than they can handle. Their bodies then prepare for damage and defeat: Their blood vessels constrict, limiting blood flow, which leads to less oxygen to the brain. And their bodies release cortisol, the "toxic stress" hormone that makes it harder to form new memories. Both of these effects cause students to do worse in school.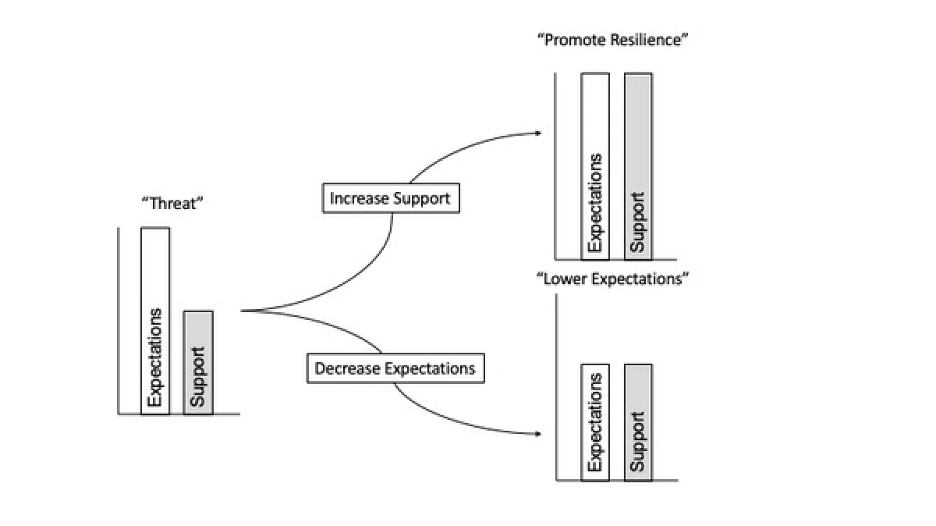 Two different ways of helping students deal with stress: decreasing expectations vs. increasing support
As teachers, we don't want to put our students under "threat." Therefore, we often pull back; we decrease our expectations to match the support available. We say, "That's OK, you don't have to worry about that" (see the bottom right of figure). While of course we need to be compassionate and flexible with how students complete assignments, we can end up pulling back for precisely the students who need us the most: lower-achieving students or those from low-income families.
In fact, in the spring of 2020, teachers in high-poverty schools were less likely to introduce new material during distance learning.
Fortunately, there's another way to help students who feel stressed: by keeping schoolwork challenging but increasing support so it matches the expectations. This approach promotes resilience (see the top right of figure).
How can teachers help students deal with stress while maintaining high standards? For Sergio Estrada, an OnRamps physics teacher in El Paso, Texas, the move to distance learning meant continuing to challenge students while supporting their growth mindsets. "I want to be a support system for them but not necessarily a crutch," he explains. "My students are engaged in learning, and they know more than they think they do. But there are a lot of confidence issues."
In distance learning, Sergio did whatever it took for his students to know that his support will meet the rigorous demands of the course. When students got a problem wrong, he emphasized to them: "You are more than just a number. You can answer this question." He tried to make his students feel comfortable with making mistakes to emphasize that failure is the starting place for growth.
Even in the early days of the pandemic, he didn't give them the answers when they were stuck but instead asked them guiding questions to help them connect the dots on their own: "I want them to learn how to think and what questions they should be asking themselves." But he let them know he was available on a chat app at any time to help. "I tell them, 'You have Mr. Estrada in your pocket. You just need to reach for him.'"
Teachers like Sergio convey to students that they are up to the challenge and that you will do whatever they need so they can meet the course's ambitious learning goals. "I want to think my students are prepared for challenges," explains Sergio. "They need to be resourceful because I may not always be there."